Vacation Rentals at Vecinos
@Cabarete, Dominican Republic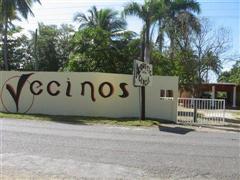 Vecinos wall at the front street.
Cabarete's own "Vecinos" brings you vacation rentals with that unique personal touch that makes your holiday the best. Enjoy the ambiance of a tranquil tropical neighbourhood, with the comfort of home. Your vacation rental here feels like your own private resort oasis at the edge of this busy beach village.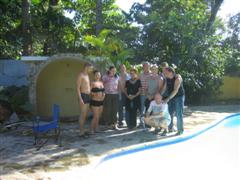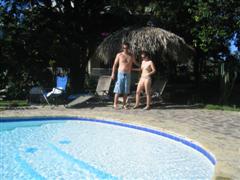 Perfect for group or couple rentals.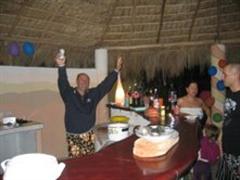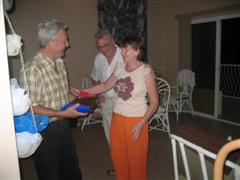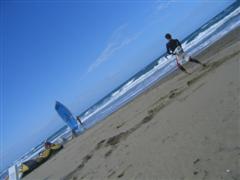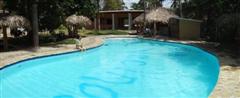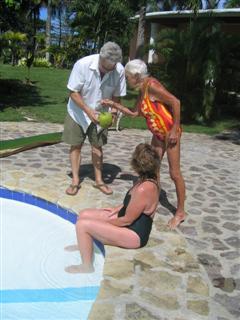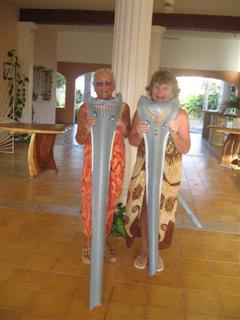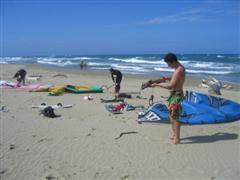 This beautiful jewel on the north shore of the DR, provides an incomparable island getaway. Your home away from home, it's an excellent vacation destination for the whole family, or an intimate + romantic get-away for two.
Vecinos vacation rentals offer you the best value for money spent. That's because we're small enough to be exempt from the hospitality industry's requirement to charge 10% service tax + 16% government tax = a whopping 26% tax!!! That's a huge saving for guests.
Tastefully designed interiors enhance your vacation rental + await your arrival. Gorgeous ocean and mountain views, beautiful landscaping with mature tropical fruit trees and a variety of flowers, treat your senses.
Pick mangos, chinola or avocados from your balcony, or almonds, breadfruit, bananas, citrus, guavas, coconuts and rollos when in season. Enjoy surrounding flowers, like orchids, bromeliads, and hibiscus. Inhale the exotic fragrance of blooming plumeria (a favorite lei flower).
the fresh water pool and poolside thatched roof bar invite you to cool and refresh yourself.
Relax in the serene tropical ambiance of the large open-air common area. Sip your favorite beverage while surfing the net poolside, or anywhere on site.
A soft golden sand beach is 100 meters from your front door, and stretches for miles in both directions. Kids of all ages love collecting shells, building sandcastles or hunting for driftwood treasures. It's the perfect place to sunbathe, enjoy swimming and water sports, or long romantic beach walks under the tropic moon.
Why rent here?
We're small. 4 rental units. We live on site, to answer any concern or question that may come up.
You'll have the entire resort practically to yourselves! Even when all vacation rentals are booked, there are only 3 neighboring renters.
As a very affordable wedding destination, it's your own private vacation rentals resort. You have our undivided attention. Chances of getting it right, when you're the only wedding booked, go way up. A big WIN for everyone.
You're like extended family (mostly good!) + we're happy to share this lovely home + our insider knowledge with you.
The gorgeous big pool is yours to enjoy.
The seemingly endless beach out front feels like it's all yours.
You can walk to any place you want to go, because we're ideally located at the edge of town. If you prefer to hop on public transport, it's readily available all day long at the front street. Guaguas (mini buses), motoconchos (motorcycle taxis), publicos (public taxis), or regular taxis pass by every few minutes. They're quite cheap, happy to stop for you + pack you in with the locals.
A small bus will take you from here to Puerto Plata for 50 pesos - about $1.50 U.S. dollars. A large Caribe Tours bus would take you across the island - from Santo Domingo to Sosua (a 4 to 5 hr trip)- for under $10.
Enjoy the best of both worlds in our peacefully tranquil vacation rentals , 100 meters from the beach, and minutes from the hustle + bustle of downtown.
If the fast pace of the rat race and economy downturn is ramping up your stress levels, it makes good sense to take a break to "recharge your batteries".
Vacation rentals at Vecinos are a rewarding gift you give yourself, + everyone around you. The financial cost is offset by a "renewed you", with more energy and a greater sense of well-being. Definitely a "√" in the WIN column.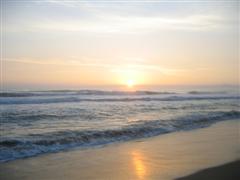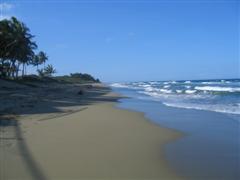 A Vecinos vacation rental could be just the right "fit" for your next Caribbean vacation "home away from home" Our warm + welcoming community awaits....great fun!
Don't take our word for it.....see for yourself what past guests from around the world are saying about their experiences in these reviews
---

Why not come see for yourself....here's Vecinos accommodations + amenities, near-by attractions + activities, and rates + availability

Check out the current Cabarete wind conditions for all you kite-boarders and windsurfers.......see you on the beach :)

Check out other world destinations here Holiday rentals by owners


Listed on Travel Notes
The Online Guide to Travel Return from: Vacation Rentals to
Our Dominican Republic homepage
Our Hometown - Cabarete
Our Country - DR