Attractions and Activities @
Cabarete, Dominican Republic
Attractions and activities @ world famous Cabarete, has something for everyone! So many choices will leave you wondering where to start first, in case you can't do them all.
Ideal prevailing trade winds and thermal conditions, combined with an offshore reef, create world-class conditions for water sports such as: kiteboarding, windsurfing, laser sailing, surfing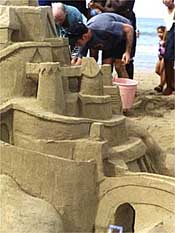 Cabarete is the scene of many one-time and annual events, from water sports to music festivals, including:
Cabarete Kiteboarding World Cup
Master of the Ocean Competition
Sand Castle-building Contest
Dominican Republic Jazz Festival
Cabarete Race Week for Windsurfing
.......and many others.....
Snorkeling, scuba diving
wakeboarding, canyoning
Mountain biking, extreme motocross, dirt biking or buggy rides
Horseback riding, hiking, Cabarete cave tours, whale watching, waterfall, jungle or riverboat safaris
Amber museum, historical San Felipe Fort or Colonial Zone tours
Shopping at numerous souvenier, grocery, clothing or gemstone shops
Varied restaurants and beach bars for dining + incomparable night life
Numerous casinos close by
World class Golf course 45 minutes east at Playa Grande
Ocean World Water Park, Marina + Casino, 45 minutes west of us
Sunbathing, sand-castle building, sea-shell, amber, + driftwood treasure hunts, walking on soft golden sand beaches, extending for miles both east + west, starting 100 meters from your front door
Poolside tanning + catching up on some reading, with your favorite tropical beverage at hand
Zip lining through the treetops on an eco canopy excursion
Car or motorcycle rentals give mobility to do your own island exploring
****************************************************************
DON'T MISS these attractions and activities.....

Eat a ripe mango, standing in the ocean surf,
with juice dripping off your elbows + chin...mmm !!!
Taste freshly picked pineapple, papaya + bananas for breakfast
Sip a chilled coconut - with or without rum added
Top things to do in Dominican Republic

* Kite board, windsurf, surf and sail
* Golf at Playa Grande - DR's "Pebble Beach"
* Whale watching in Samana
* Canyoning + rappelling beside waterfalls
* Zip lining on eco canopy tour
* Go to a baseball game (or Sunday cock-fight) - a true insight into Dominican culture
Top things to do on a budget

* Beachwalk hunts for shells, driftwood + amber treasures
* Explore + swim in the local caves
* Ride the Teleferico gondola up Mt Isabel del Torres
* Visit Christopher Columbus's old fort in Puerto Plata
* Horseback riding on the beach + to visit inland waterfalls
* Sample local cuisine at roadside kiosks or bbq stands
* Shop La Pulga (flea market) in Puerto Plata
* Relax with a book poolside or at the beach
* Tour the Brugal factory in Puerto Plata
* Saturday "sale-ing" @ Vecinos Saturday Market
Top things to do with a family

* Picnic at the beach
* Bus tour through the mountains
* Visit a local school and village
* Boat tour the swallow caves of the Gri Gri Lagoon
* Swim with dolphins at Ocean World
* Celebrate at Independance Day Festivals in La Vega
* Visit Amber Museum in Puerto Plata
* Discover Santo Domingo's Colonial Zone's culture
* Build sandcastles + swim the endless beaches
HAVE FUN!
Fill your next holiday with the unique attractions and activities around Cabarete. We'd luv to host your stay with us at Vecinos! the hottest destination + the coolest spot on the Amber Coast of the Dominican Republic!

Return to:
Our Dominican Republic - homepage
Our Home - Vecinos
Hometown - Cabarete
Vacation Rentals