Affordable Destination Wedding
@ Your Own Private Resort

FINALLY!
An affordable destination wedding - that doesn't break the bank
with money left over to start your new life together off on the right foot!
A dream Cabarete wedding @ Vecinos could be your perfect choice!

Do you want someone to do it all for you, at a price you can afford? or are you looking for a destination wedding with the flexibility to do it yourself and save even more?
Either way, Vecinos is the place you've been looking for.
We can assist you with all the required paperwork and details to ensure your dream Cabarete wedding runs smoothly, or just be your "base of operations" if you want to make your own arrangements.
Exchange your vows on the beach or in the elegant open-air reception hall, just steps away.
Your wedding party + guests (up to 24) can all stay at our resort. We can arrange alternate accommodations close by, for additional people in a larger group.
Why Choose Us @ Vecinos?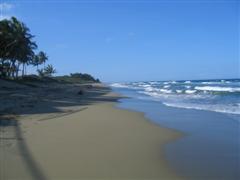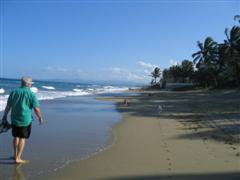 Your dream wedding @ Vecinos has breathtaking ocean views and miles of golden sandy beaches for your backdrop.
Tropical Caribbean ambiance envelops you + your guests to make your wedding an incomparable memory of a lifetime.
You have our complete focus - We're small, so you'll be our only wedding at the time. Optimal position to ensure your details are in place, and your plans are followed through with.
Wherever possible, "your wish is our command" - (a bit like having your own genie in a bottle!- good match to make your dream wedding come true)
As Canadian expats, we understand and appreciate the importance of excellent customer service (see the quote above)
You can count on our integrity - our word is our bond. When we make a promise, we do everything within our power to make it so.
When we can, we will. When we can't, we'll tell you up front. Take a look at our affordable rates and package options.
You'll see why the Dominican Republic's romantic Caribbean beaches are the perfect backdrop for your destination wedding @ Vecinos!

---

Return to:
Our Dominican Republic (homepage)
Our Hometown - Cabarete