Cabarete Tours
See, Taste and Explore our Caribbean Island
Cabarete tours tantalize your senses and can be a highlight of your holiday. Come see, taste, + experience this diverse island culture, how + where the Dominicans live, + get an insight into their country and culture. You just might get that great story (a definite vacation "plus") to tell your friends back home.
A sampling of what's available is:

- zip lining through the tree-top canopy
- world class golf at Playa Grande
- tennis
- swimming with the dolphins at Ocean World
- mountain biking
- hiking
- horseback riding to inland waterfalls or on the beach
- walking through the historical San Felipe Fort or Colonial Zone
- Amber Museum shopping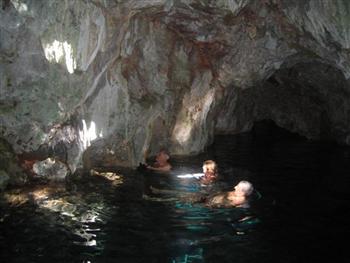 - Cabarete cave exploring + swimming in crystal clear azure underground pools
- dune buggy excursions
- whale watching
- bird watching
- jungle safari or river boat rides
Our best friends took us to the Gri Gri Lagoon for my birthday. It's a very interesting area to explore. Boat trips show you different birds in their habitat and take you to the swallow caves. Interesting rock formations line the shore and bottom of the shallow water.
Extreme motocross or jeep rides are available for the more adventurous. Renting your own motorcycle, jeep or car, gives you added flexibility to explore the island on your own.
For larger groups, check out the amazing folks at 4T Tours, Trips, Treks + Travel . They specialize in entertaining groups of 6 to 400! Their full range options has something for everyone, regardless of skill level.
When you need a change of scene, or just want to "kick it up a notch" check out the many tours available in Cabarete.
You're sure to find something you'll really enjoy doing.....even if that turns out to be absolutely nothing!
Return to
Hometown - Cabarete
Our Home - Vecinos
Our Dominican Republic - homepage