Elegant Open-Air Reception Hall
Common area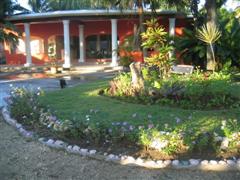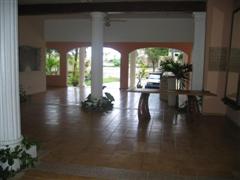 An elegant reception hall/common area emerged from our house renovation. We tore down the walls of our old living room, + literally raised the roof.
This opened up the entire center of the building, inviting tropical breezes to flow through.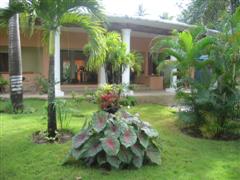 Les's vision was to have tall, marble-white columns (like the Whitehouse) create a regal ambiance, the perfect backdrop for our dinner parties.
What scrumptious, entertaining times we have there...(some might say almost legendary, but then, urban legends have to start somewhere - te-hee) Cheers!
11' high ceilings reverberate with great acoustics. When Les ran an acoustic circle, musicians came from all over to play. Unplugged. Great sound!
Good fun Sunday afternoons, enjoying beer and popcorn while listening to some tunes. (insert applause here)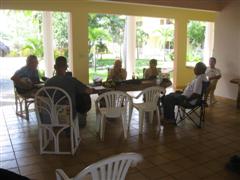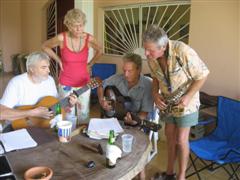 The reception hall is an ideal retail space, and lends itself perfectly to be a:
restaurant (or possibly dinner theater!)
art gallery, classroom or art studio
furniture showroom
therapy clinic, health spa, exercise studio
family reunion group dining area
tropical conference room for small company convention
destination wedding + reception ballroom
...big breath!... or any myriad of possibilities.
The cooling tropical breeze also makes it a favorite place to read or work on art: sketching, carving, painting or sculpting.
2 bathrooms flank the open-air center, 1 on each side. The east side of the center space has the kitchen, bathroom and pantry. On the west side, a short hall connects 2 rooms at either end, with a bathroom in the middle.
We built an addition along the west wall of the house.
It adds a room with 3 windows and a door at the front, laundry room in the center, and 2 bathrooms at the back to service the pool and bar.
Les uses the open-air retail space as a showroom to display his unique wooden tables.
Picture a one-piece slab table top, showed off to best advantage, in this regal setting. Or bellying up to the 14+ foot, one-piece bar, which fits easily in this large space, enhancing both the furniture and its' surroundings.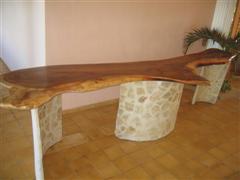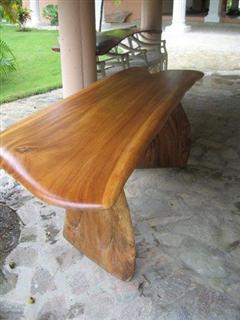 Looking through the open-air center toward the pool, you see distant mountains, echoed in abstract replica, painted overhead on the ceiling bulkheads.
It's a theme carried over to the bar's curved wall and pillars, bringing the outdoors in.
Sitting here, caressed by a whispering breeze, sipping your favorite beverage, reading or just soaking in the ambiance, is an incredibly relaxing way to wile away some time.
We're happy with how it all turned out...our Vecinos reception hall /common area. Home of good times!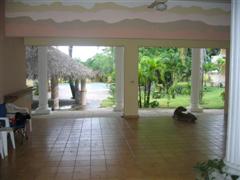 Return to:
Our Dominican Republic homepage
Our Home - Vecinos