Why We Chose the DR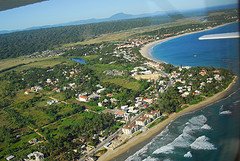 Some reasons why we chose the DR ...
Besides the obvious reasons of the azure blue ocean lapping at seemingly endless beaches, and enjoying summer year round.....
Why We Came.......
Includes:

- the affordability of a good standard of living and very low taxes (big factor in why we chose the DR )

- it's a popular destination for expats, who live here full or part-time = like-minded neighbors for friends + customers = good social circle + opportunity to make extra money

- the lure of a simpler life - friendly locals living a simple rural life made us feel like we'd stepped back in time by 50-100 years (it's not unusual to see a man riding a loaded burro along the main road, while talking on a cell phone)

- the stable government = better justice system with greater personal + property safety

- developed infrastructure = more conveniences such as abundant water and power supply + modern communication and banking systems

- the island is so big, it offers a wide variety of diverse conditions, scenery, flora and fauna
Why We Stayed
1) We found + bought a great property to develop:

- at an excellent location....at the edge of Cabarete, 100 m from the sandy beach, with awesome ocean + mountain views....
- with an existing house, convenient for us to live in, while building our condos for sale
- suitable for expansion in beautiful surroundings
- the price was right!
2) We met our best friends, a British couple, who moved here around the same time we did. Their friendship and support is invaluable, and one of the best parts of having come here.
Why We Want to Move On Now.....
Our kids and grandkids are powerful magnets, pulling us back by our heartstings!
We're far away (geographically), and not able to travel back and forth to see each other as often as we'd all like to. That's prompted our decision to sell here now, and move closer.
As much as we enjoy our time here, that family "magnet" is also strong. Heartstings can only stretch so far, before they reel us back in.....or snap.
We're not about to let ours go snappin'....

"...so there's only one thing that's a bound to happen..." (lyrics by Lester Grant)

......"Vecinos" is for sale! (we knew this day was coming, and was part of why we chose the DR )
We invite you to come visit us. Find your own reasons for loving it here. You'll understand, + see for yourself, why we chose the DR to live in.


Return to:
Our Dominican Republic homepage
Our Country - DR
About Us - Les + Lynda