Saturday Market
"Sale-ing" @ Vecinos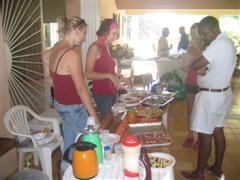 Our Saturday Market is our answer to the beloved garage sales of back home that we miss so much! It's evolved into a weekly social event - combining that unbeatable combo - shopping, lunch and catching up on the latest neighbourhood buzz.
Various vendors display their wares to locals and gringos alike, who browse for treasures with free hot buttered popcorn in hand.
On any given Saturday, you'll find everything from vehicles, appliances + household bric n brac - to fabulous German pastries and fresh organic vegetables. It changes every week, which keeps the customers coming back to see what's turned up this time.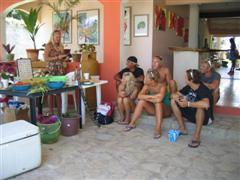 Delores of DR1, our most popular news online wrote this article about our Saturday Market.......
Garage sale in POP
Retired Canadians Les and Lynda Lehmann are making theirs the North American tradition of holding garage sales. They have even taken it a step forward. They also invite to a table top sale, open market or what is known here as a "pulga" every Saturday at Vecinos, located on the main Puerto Plata highway, 300 meters east of the Texaco at Cabarete's east edge.
Every Saturday for the past three months they've hosted the flea market, offering a place to shop for treasures, sell one's unwanted stuff, or just a place to get together for lunch and catch up on the latest neighbourhood news buzz with friends. "It is a place where internationals and locals can mingle in their treasure-hunt, with hot buttered popcorn in hand," says Lynda Lehmann.
Among their weekly vendors are Christine + Margit, "the German ladies" from German Homestyle Cakes, who supply fresh pastries. Deb Suwala, from Cabarete Organics brings a freshly picked assortment of organic vegetables. Her basil, arugula, spring mix lettuces, peppers, eggplant, tomatoes and even flowers are very well received.
Lehmann explains that expats moving back home find a good outlet at the Market to liquidate their household items. Other vendors (200 pesos gets you a table for the day) have tables full of material, curtains, bed linens, clothes, books, puzzles, kitchen ware, paintings, electronics and other various treasures. Some even drop off pets, vehicles, furniture and appliances for sale (at a 10% commission).
They can be contacted at 809 571-0260 or by email to reserve a table. The hosts serve coffee (hot or iced), limonada, beer, the best crisp pizza slices around, and free popcorn for those going on the Saturday bargain hunt.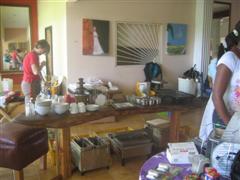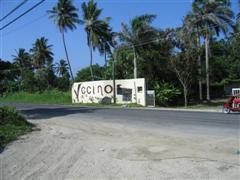 Return from Saturday Market to Our Dominican Republic homepage