A Day in the Life
Adventures in Opposite Land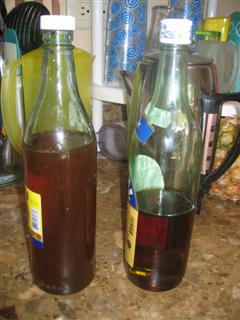 Some of our stories of "a day in the life"......
Brugal rum:(caution ~ rum bottles are everywhere, and have many look-alikes)

Les has always enjoyed his rum. Ever since he was introduced to grog in the navy.
But even I was incredulous one morning, when he doused his peanut butter toast with an upside down SLOOSH! of what he thought was honey......then declared "it was pretty good - just like I thought it would be"......hmmm
Maybe he should've started with coffee.....
My kinesioligist recommends rum to help deal with the tropical heat, but didn't specify how long before it takes affect - I'm still working on that one....hmm
Great Rum recipe: (shared by Terry + Nicky from NY)
1) sit outside on the balcony, fill a glass with crushed ice + squeeze of lime,
2)hold glass up to the sky (best effect during sunset),
3)pour Brugal rum up to horizon , add some coke to cover the sky, stir smoothly, lean back and enjoy!
---
Opposite-land examples:

Electric bill goes up with higher usage - the more kilowatt hours used, the higher the charge per kilowatt hour - unlike how things work in "normal-land", this is....... opposite-land!
---
Les's latest bill-paying adventure (in his own words - hehe)
Stopped in at Edenorte to pay my power bill last week......I get 6 bills and had only received 5 , so I asked the girl for the missing one......took her ten minutes or so but she did get it printed for me.....as I was walking over to the cashier I noticed that on the new bill I had been charged 330 pesos for a reconnection, so I turned back and told her there was a problem....another lady was just sitting down......20 minutes later she gets back to me and gets on her computer and looks here and there and everywhere and finally says that I need to show her my receipt for February...???
.......the next day I go back with said receipt and she gets on her computer and says that Dalkys [the supervisor] will have to look at it but she wasn't there ..
...so the next day I go back and Dalkys said that I hadn't needed to bring the Feb. receipt because she could look it up on the computer.....but.....the system was down and I should come back later....
....the next day I showed up and Dalkys was out of the office and the original girl didn't know how to use the computer [even though she did the day before....
...so the next day I stop at the office and Dalkys is there and she explains that I paid one of the bills late and that is why I was charged a reconnection fee....I told her that I always paid all the bills at the same time so how could one bill be late and not the others......you could see she was starting to get an attitude and said it was ONLY 330 pesos and I said yes, but it was my 330 pesos and she looked at me sorta funny and then said she couldn't understand what I was saying because her English was very poor......She gets back on the computer and says that this error occurred in September and that I would need to show her the copy of my receipt.....
...I explained that in August I had prepaid all the bills because we were in Canada and they had somehow not credited t the one bill with the 1000 pesos and it showed up as unpaid and did she not remember the hassle we had been through to get that straightened out.......She looks on her computer and says that I had already received a credit for that problem and I would have to show her my receipt for September....
....Ya gotta take into consideration that I'm doing all this without raising my voice or telling her what a bunch of idiots they were.....
Anyway, next day I show up with a whole bag of receipts and she's in her office dealing with another person and is speaking very fluent English with her........When she sees me coming with my receipts she gives me one of those Spanish stares, like I should turn to stone or possibly be instantly engulfed in flames........goes over to the cashier and a small argument ensues but she gets out a card and credits my account for 330 pesos. Then storms back into her office jabbering something about "solomente 330 pesos" and I said yes but it wasn't my fault "no mio culpa"....
...anyway I go to pay the rest of the bills and couldn't get the smile off my face because I realized I had actually out aggravated a Dominicano woman...and that ain't easy.
Tomorrow I'll tell you the Codetel story [phone company ]......a 3 week odyssey in aggravation, aka. "a_day_in_the_life"........Later, Les
------------------------------------------------------------------
This news tidbit just in....only in opposite land, would email be delivered by motorcycle.....
Postal service launches new e-mail service The Dominican postal service (INPOSDOM) has extended its portfolio to include a new digital postal service.
Customers can now go to the post office to send an e-mail, which is then printed out and delivered to the person concerned. The e-mail is placed in an envelope and delivered by motorbike courier - the receiver pays on delivery. Is this a new idea for loved ones living outside the country, who want to send a letter to their girlfriend/ boyfriend? The company guarantees that the post will be delivered within 24-72 hours. Further information is available via the INPOSDOM website: www.inposdom.gob.do
--------------------------------------------------------------
Another example of "opposite-land" living.... Les's bedside reading lamp switch stopped working. Ever resourceful, he turned the light on + off by tightening or unscrewing the light bulb.
After a big thunderstorm one night, he forgot and used the switch to turn it on....it WORKED!
??? why/how did the switch magically fix itself?!?!?! very strange....another adventure in opposite land...
----------------------------------------------------------
In the DR they have street vendors that sell ice cream.....they have a little 2wheel cart with an insulated tub mounted on it and they walk down the streets yelling Helado...Helado.....
the wheels on this cart are about 3 or 4 inches in diamater and are like the old baby buggy wheels with the spokes and are mounted on a metal shaft......
Yesterday I saw one of these guys getting a lift from a motoconch driver....He was sitting on the back of the bike and was pulling his cart behind him.....at 30 miles an hour those little wheels were just a blur....pretty humorous
Later...Les
---------------------------------------------------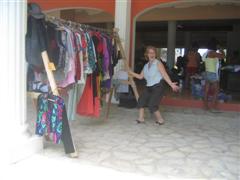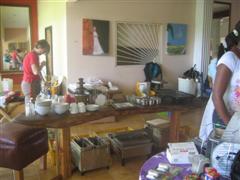 Since starting our weekly Saturday Market in mid-May, we've been working at promoting this event - our DR version of the "dearly-beloved" garage sales of home.
So we were thrilled when this article appeared on the DR1 news this week.......
Garage sale in POP Retired Canadians Les and Lynda Lehmann are making theirs the North American tradition of holding garage sales. They have even taken it a step forward. They also invite to a table top sale, open market or what is known here as a "pulga" every Saturday at Vecinos, located on the main Puerto Plata highway, 300 meters east of the Texaco at Cabarete's east edge.
Every Saturday for the past three months they've hosted the flea market, offering a place to shop for treasures, sell one's unwanted stuff, or just a place to get together for lunch and catch up on the latest neighbourhood news buzz with friends. "It is a place where internationals and locals can mingle in their treasure-hunt, with hot buttered popcorn in hand," says Lynda Lehmann.
Among their weekly vendors are Christine + Margit, "the German ladies" from German Homestyle Cakes, who supply fresh pastries. Deb Suwala, from Cabarete Organics brings a freshly picked assortment of organic vegetables. Her basil, arugula, spring mix lettuces, peppers, eggplant, tomatoes and even flowers are very well received.
Lehmann explains that expats moving back home find a good outlet at the Market to liquidate their household items. Other vendors (200 pesos gets you a table for the day) have tables full of material, curtains, bed linens, clothes, books, puzzles, kitchen ware, paintings, electronics and other various treasures. Some even drop off pets, vehicles, furniture and appliances for sale (at a 10% commission).
They can be contacted at 809 571-0260 or by email to reserve a table. The hosts serve coffee (hot or iced), limonada, beer, the best crisp pizza slices around, and free popcorn for those going on the Saturday bargain hunt. ----------------------------------------------------------------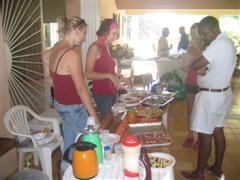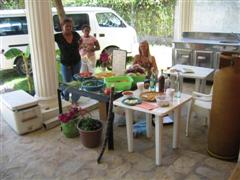 Best Attractions to Visit in the Dominican Republic
With so much to see and experience in the Dominican Republic, it can be difficult planning out a trip there. If you are having a problem picking the best sites to visit, check out our picks for the best places to check out in the Dominican Republic.
Playa del Macau
Whether you want to catch some rays, enjoy some surfing, or enjoy the hot babes getting a tan, the beaches at Playa del Macau are a must see. You can even take scuba diving lesson and have an underwater adventure exploring a nearby shipwreck.
Eastern National Park
The Parque Nacional del Este is home to 112 different species of bird as well as host to hundred of other species of wildlife. The marine park is one of the largest in the Caribbean and has numerous caves where tourists can view early cave drawings. There are also several remote beaches as well as a offshore coral reef that is excellent for diving.
Casinos
If you're a fan of gambling, there are 32 casinos spread out over 12 cities in the Dominican Republic. Poker enthusiasts who travel around the globe will find plenty of casinos offering the game, including the Barceló Bávaro Casino in Punta Cana. Most establishments are smaller and not as crowded as casinos you will find in major casino destinations, meaning that the establishments will focus more on customer service and less on taking your money.
Catedral Primada de America
The Catedral Primada de America was built somewhere between 1514 and 1544 and is the oldest cathedral in the Americas. If you love history, Renaissance-style decor, or gothic ambiance, this is a must see on your trip. At one point in history, it was also the resting place for Christopher Columbus.
Alcazar de Colon
Located in Santo Domingo, the fortress known as Alcazar de Colon was erected for Christopher Columbus' son Diego around 1509. Deigo ruled the colony and made the fortress his home. Ponce de Leon, Balboa, Cortes, and others were entertained here during Diego's reign.
As you can see from above, the Dominican Republic is a land rich in beauty and history. Our recommendations above are just a small sample of what is available, but are also some of what we believe are the best areas in the Dominican Republic to visit. To find out more, do your own research or consult your travel agent.
---
All in "a day in the life" in opposite land......where life can never be considered boring!
Return to:
top of page
Our Dominican Republic - homepage
About Us - Les and Lynda